Grenade by Alex Moss
INTRO
---
L'Epée 1839 x Alex Moss Grenade is not just any ordinary timepiece; It is an artistic object that dares us to embrace the present moment and seize life's opportunities. 
Drawing inspiration from diverse art forms, from contemporary art to street art, this exclusive collaborative collection shatters conventions by seamlessly fusing the realms of horology and jewelry craftsmanship.
The L'Epée 1839 x Alex Moss Grenade features a pin that doubles as the key, which when pulled allows for setting the time and winding the eight-day movement. The moment you pull the pin on a grenade the mind is focused: the grenade is live, and you must concentrate on the here and now to live.
The clock forces the mind to focus on the moment you are in and the task of winding and setting the time, reminding you that you are only guaranteed this very moment, as Time is precious so don't waste it.
The hours and minutes are displayed on two black aluminium disks rotating directly over the beating heart of Grenade. Ticking away at a traditional 18,000 vibrations per hour, the balance wheel is front and centered, audibly reminding us that time is slipping away, and we never know how much time we have left. Once you wind Grenade and set its time display, the next step is to seize the day.
 
THE COLLABORATION
---
It's difficult to imagine a time when only the prominent and wealthy individuals in society had the privilege of owning timekeeping instruments. Nowadays, we often take the ability to measure time for granted. However, timepieces now serve a distinct purpose in our lives. Wearing a particular watch on your wrist isn't merely a way to effortlessly keep track of time... It's a method of demonstrating that you have achieved a level of status in your life or profession.
Throughout history, watches and clocks have always been more than just devices that tell time. They are artistic creations with significance and value that go beyond their practical usefulness which is why Alex Moss is honored to be partnering with the iconic Swiss manufacturer of luxury clocks since 1839, L'Epée 1839 Clocks.
The collaboration consists of a limited-edition collection of L'Epée 1839's Grenade, modeled after the historical MKII grenade featuring a pin doubling as the key, which when pulled allows for setting the time and winding the eight-day movement, covered in Alex's rare diamonds. The pieces – with a retail price of $149,000 for business model pre-order– will be available through 2023 with a Part II coming this fall.
About Alex Moss
Growing up in Toronto in the mid-to-late 2000s, Alex has always appreciated artistic expression. He picked up Photoshop at a young age and dabbled in graphic design before enrolling in Parsons for fashion design. Still, hip-hop culture sparked his curiosity. As he found his way through New York, and eventually to jewelry, he never lost his desire to break the mold.
Alex's bold approach provides an antidote to the monotony of Manhattan's Diamond District, where almost every storefront looks the same and most family-owned businesses pass through the generations. He has become one of the most in-demand names in the small, competitive world of diamond-dense custom jewelry, a niche occupied by important players.
Now, his loyal crowd includes notable artists, businessmen, and entertainment leaders like Drake, Tyler, the Creator, and Jack Harlow who go to him for their special pieces.
Any questions ?Contact us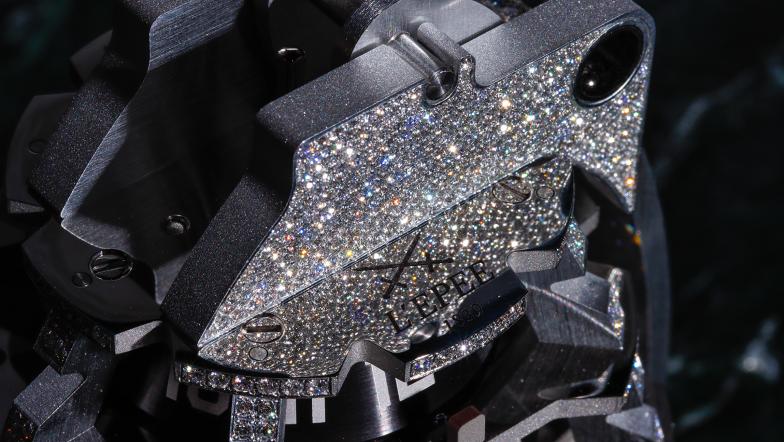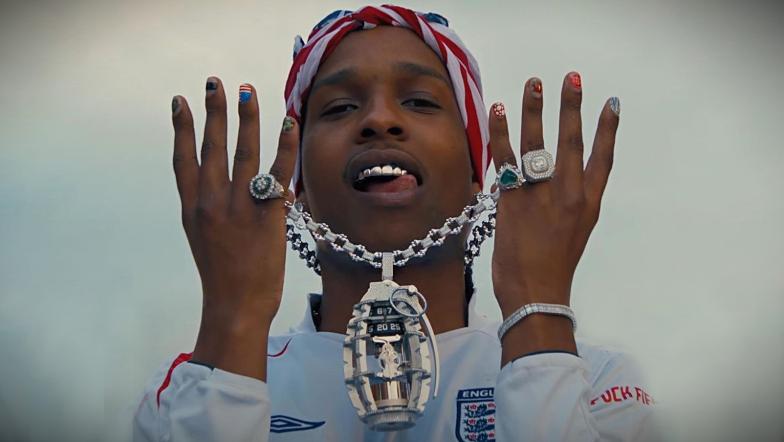 SPECIFICATIONS
---
EXCLUSIVE COLLECTION
Dimensions: 120.5 mm (height) x 77.6 mm (width) x 66.6 mm (depth)
Weight: 620 g (real MKII grenade of same shape is 600 - 630 g)
Diamonds approx. 2144 stones for 34.27 carats
Handcrafted in Switzerland & NYC
FUNCTIONS
Hours and minutes are displayed on black aluminium disks with engraved numerals.
Time is set with grenade pin on top of frame, mainspring wound on bottom of frame.
Number of components: 255
MOVEMENT
L'Épée 1839 movement designed and manufactured in-house
Multilevel vertical architecture
Balance frequency: 2.5 Hz / 18,000 vibrations/h
11 jewels
Incabloc shock protection system
Power reserve: 8 days
MATERIALS & FINISHING
Palladium-plated brass
Stainless steel
Finish: polished, satin brushed, sandblasted
Micro Pave hand setting
Diamonds (Clarity VVS – Color D-F)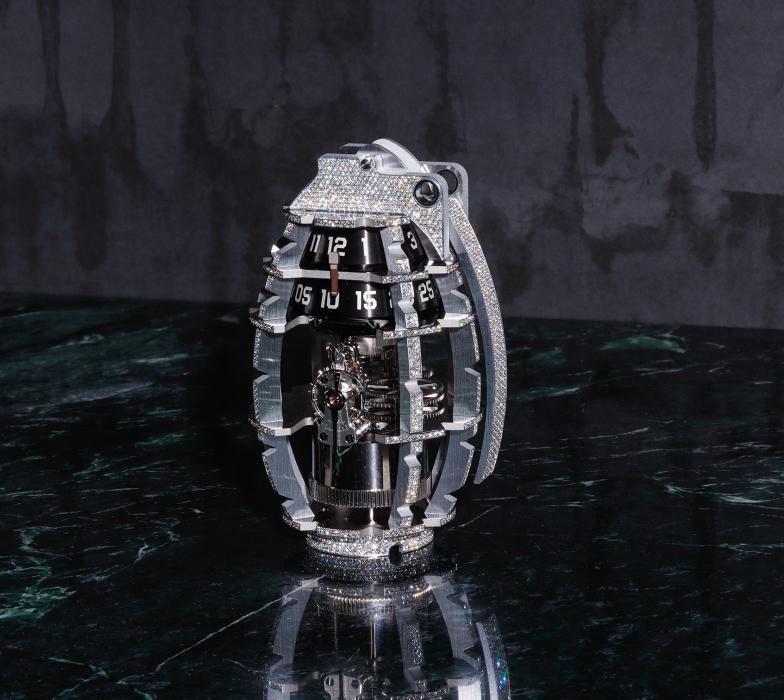 AVAILABLE Add to cart

Retail Price CHF 135'000.- Excl. Tax / Made to Order