ARACHNOPHOBIA
INTRO
---
TELLING THE TIME WITH TWO HANDS AND EIGHT LEGS
Arachnophobia is a special kinetic sculpture for the people that expect the unexpected.
Something unique, something everyone will remember when seeing it on the desk or hang on the wall. This is a piece of art intended to shock, evoke, and inspire people, not to toe the line.
Conceived by MB&F, and engineered and crafted by L'Epée 1839 manufacture – Arachnophobia is the result of MB&F founder Maximilian Büsser's overactive imagination blending with his appreciation of art.
THE STORY
---
Arachnophobia was inspired by a giant spider sculpture called Maman that Büsser had seen in both Geneva and Doha. "Maman" (mother in French), was created by Louise Bourgeois (1911 - 2010) in bronze, stainless steel, and marble. Measuring 9.27 x 8.91 xb10.24 metres (more than 30 x 33 feet), the monumental sculpture has been installed in a variety of locations around the world.
Arachnophobia is available in two colours, yellow gold and black, which required two different metals for the legs. The gold-coloured edition features gilded brass legs, while the black version's legs are made of aluminium, which is hand-finished and lacquered in black.
"All of the finishing is accomplished by the hands of master finishers, who grind, satin-finish, polish, and then plate or lacquer the legs depending on the version, says L'Epée 1839 CEO Arnaud Nicolas." Finishing techniques used on the clock's "body" and legs include anglage, mirror polishing, satin finishing, circular satin finishing, sand-blasting, and polishing.
To really make a statement, L'Epée has also developed a system enabling Arachnophobia to be hung on a wall. An innovative catch underneath the movement hooks on to a stainless steel wall bracket.
"Making this clock was an adventure; it is the first time we went so far on a design," Arnaud Nicolas explains. "In fact, the clock was made in two steps. The first one was the spider itself, and the second took place in the middle of a meeting when I was presenting it and had the spider in my hand near a wall. I was explaining how incredible this new clock was when the idea of hanging it on the wall popped up in my mind."
"Working with the energetic MB&F team is always a pleasure," Arnaud Nicolas continues. "Once again we went to a place where no one has gone before, and this is what I like about the MB&F team. Nothing is impossible; they have great ideas and incredible talents."

Any questions ?Contact us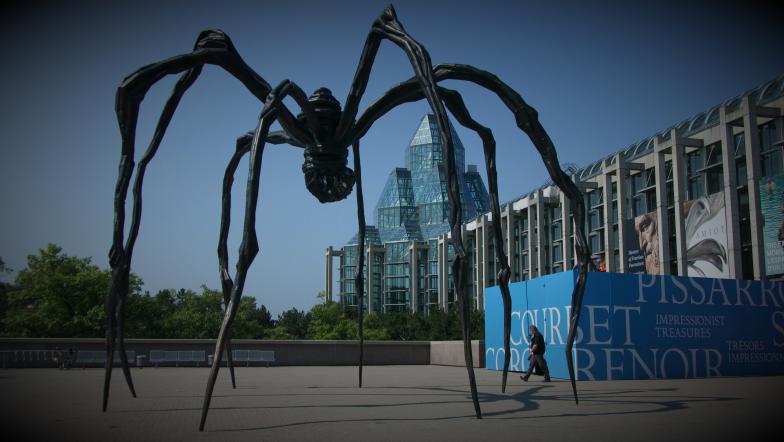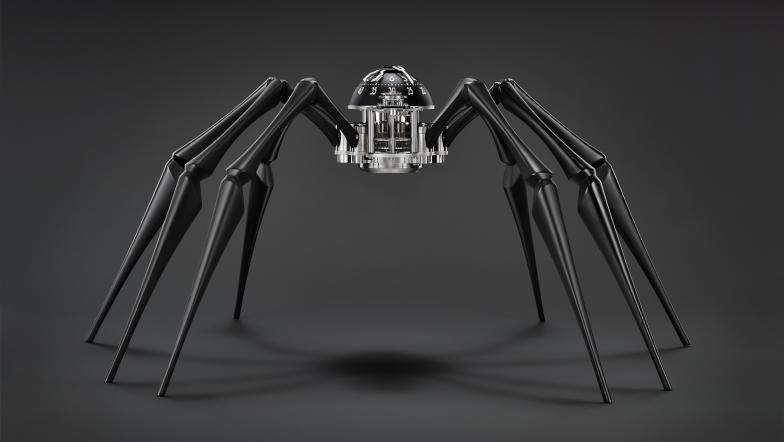 INSIGHTS
---
L'Epée 1839 developed a highly unusual concept with Max Büsser, using its clockmaking know-how, to create a movement as the mechanical head and torso of a spider. The body is outfitted with a black dome with white numerals depicting the hours and minutes. The araneae's self-sufficiency is to be admired, for the finely-finished, highly-visible movement boasts a power reserve of eight days.
At either end of Arachnophobia's time-displaying abdomen, important mechanical processes take place: the head houses the regulator with its oscillating balance wheel (and a set of jaws in case it gets peckish at night), while the other end contains the mainspring barrel, which powers the movement. Attached to the abdomen are eight, visually enticing legs articulated where they join the body by ball-and-socket joints. The legs can be rotated so that Arachnophobia can stand tall on a desk or splayed flat for wall mounting.
Arachnophobia is available in two colours, black or yellow gold. While individual tastes will vary, the black version is more realistic-looking and may be even intimidating to some; the gilded model has a more sculptured artistic appearance.
While Arachnophobia is not nearly as large as the sculpture that inspired it, at 405 mm in diameter with the legs fully extended, or hanging on a wall, it is certainly large enough to make a real impression.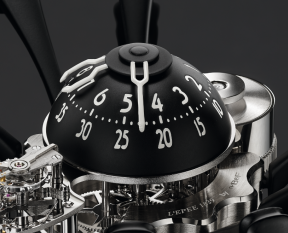 Time display on the spider's belly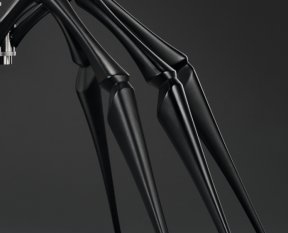 Hand-finished legs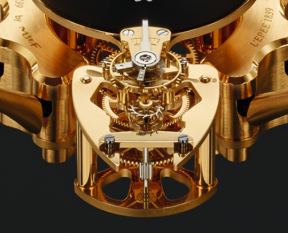 Close-up on the escapement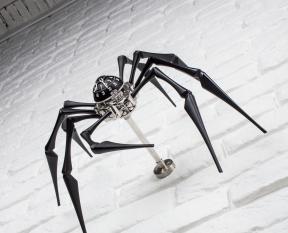 Displayed on a wall
SPECIFICATIONS
EXCLUSIVE LIMITED EDITION
Arachnophobia is available in black or 18k yellow gold-plated editions of 500 pieces per version
DESIGN & DISPLAY
Hours and minutes: curved hands rotate to indicate hours and minutes on a polished central dome
218 components, each one (except the jewels) machined and finished in-house
DIMENSIONS & WEIGHT
203 mm in height (legs extended); clock diameter (legs flat) 405 mm; movement dimensions 75.3 x 134.9 x 63.8 mm
Weight: gold-plated version 1.96 kg; black version 0.98 kg
MOVEMENT
L'Epée in-house designed and manufactured movement.
Balance frequency: 18,000 bph / 2.5Hz
Incabloc shock protection system
Power reserve: 8 days
MATERIALS & FINISHING
Aluminium / brass
Palladium-plated brass or gold-plated brass
Includes Côtes de Genève, anglage, polishing, sand-blasting, circular and vertical satin finishing
FEATURES
Winding: key winding and setting on underside of clock
The clock can be mounted on a wall thanks to a supplied mounting kit